Today's designer spotlight is with Arizona based interior designer, Capella Kincheloe.  She is an artful talent that combines traditional elements with unexpected items for a blend that is beautiful, unique and comfortable.  Capella was really generous with her answers so this post is literally packed with good advice and tips.  So, without further ado…
You lived in pretty outdoorsy places like Alaska, Colorado and Wyoming so obviously nature is an important part of your aesthetic.  How do you try and incorporate that into your designs?
The indoors need to be in harmony with what is outside, rooms need a connection to the outdoors, you can't seal out nature at the windows and the front door.  I think that nature is important for people's souls and therefore important to where they live.  I never understand super-modern design.
Luxurious interiors can be in total harmony with nature because it is an appreciation of beauty and quality.  So I incorporate nature into everything that I do, whether it is organic materials like linen, a woven basket, or something more literal like a tree.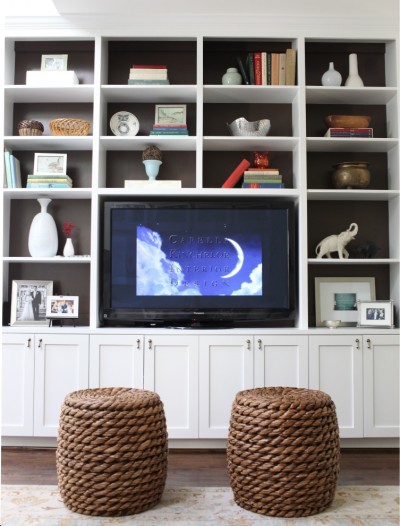 What do you use as your starting point for design inspiration?  Do you feel its important for the client to come up with something like a picture or rug or would you rather do the digging yourself?    In other words, if I were a fly on the wall in the room when you sit down to develop a design concept what would I see? How does your typical design process run its course?
Design is a puzzle and that is why I love it so much.  You are given several factors – clients wants and needs and the space limitations and possibilities.  I must find the best solution to this complicated puzzle.  So, when I am starting a project, I let the space and clients sink in to my brain.  I just let it sit and eventually an idea clicks – whether it is a paint color, a piece of furniture, a certain layout, or the feel I want the space to have.  I do ask the clients to pull images that they like and we talk about them- even if the images look unrelated to the clients I am able to find the connecting link in their taste.  Usually after that the design concept falls into place quickly – then the challenging part of finding each piece of the puzzle to fit starts. From there I start with the most important piece for the room – to make sure that the budget is allocated properly and the most important piece of the puzzle is given due attention.   I know how I want each piece of the puzzle to look, what it needs to cost, and what size it needs to be – I just need to find it!  The hunt for the perfect fit is what I love about design.  This room started with the paint color and developed from there.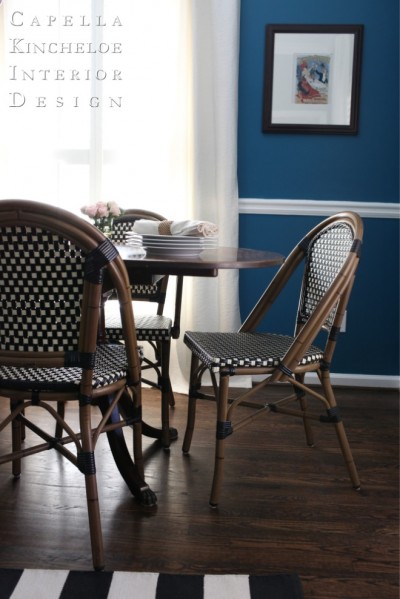 I love your style, its casual and unaffected, feminine  without being too girly and hep.  Obviously, trends change and no design is 100% timeless but if you had to design a living-room that you would still want to enjoy in twenty years what kinds of things would you include and what would you leave out?
I've always been the type of person that doesn't want to do what others are doing.  I've always wanted to be unique, so I try to avoid trends.  I think quality is the most important aspect of a timeless space.  A beautiful antique rug has been around for 100 years is likely to remain timeless for another 100 years.  A George Smith sofa is a classic shape that will never go out of style and the quality is so good you could upholster it in a beautiful Belgian linen and it would easily look great in 20 years (probably more).  Always include wood furniture with a beautiful patina for a natural grounding element.  In each space I design there has to be a nod to history, whether it is in a historical reproduction piece or antiques, it keeps it from being too trendy.  I love including ethnic patterns and textiles from around the world.  Styles change, but so does the way we use our homes.  20 years ago the open floor plan was not as popular as it is today, the kitchen was not a public space.  Formal living rooms were popular.  When my home was built, there was a family room, a formal living room, a formal dining room, and a galley kitchen.  Now the kitchen is open to the family room, the formal living room is now the dining room and the formal dining room is a library.  Times change how we live.
What is the most valuable piece of advice that anyone ever gave you? And, what advice would you give to an interior design student just starting out?
A family friend once told me the advice she had gotten from her boss when she was an assistant, to always act like the CEO.  This gives you confidence and in return you will get respect and other's confidence in you.  I regularly get emails asking for advice from students and other designers starting out.  My advice is to learn the business side of design, study it as much as the creative side.  It is equally as important.
You worked for Micheal S. Smith for a while even though, if I'm not mistaken, you had a degree in architecture and not interior design.  How did that come about?  What are the 3 most important things your took away from experience with him?
I have a degree in Communication and I took a long round-about way to be designing with Michael Smith.  It was a demanding four years but the best education I could have had.  It is hard to choose the most important things I learned from him because my entire design education is from working for him.  Michael is a design genius and a shrewd businessman.  He surrounded himself with great people who helped support and grow the business.  It showed me that you need to be great at design and great at business to succeed.  He also taught me how to work with clients and solve problems when something went wrong.  I learned how to complete a project from design concept to installation.  Everything from pricing and contracts to finding and sourcing that perfect piece I learned from him.  He taught me that there is a perfect piece to fit in the puzzle, sometimes I would show him 10 options and in his mind they weren't the perfect fit, so I had to keep looking until he approved.  You can't just settle.  One of my favorite rooms I worked on while I was at Michael Smith Inc. (below).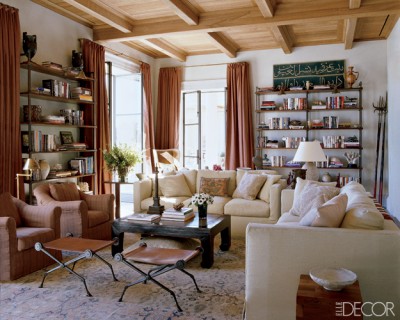 How important do you feel having a design mentor is?  Do you think you would be in a different place now had you not been able to work with such an accomplished designer when you were just starting out?
It is so important.  A good mentor has built a business and knows what works and what doesn't.  When I worked for Michael, I was designing for wealthy clients without budgets, sourcing the most beautiful products and managing very large projects in other states and sometimes countries.  That's experience that most designers don't have and you certainly can't learn it in school.  I am very lucky.
Are there any tools, apps, programs or even just a favorite brand of glue, that you can't live without? Tell me what you love about them.
I use the typical design tools for business – AutoCAD for floor plans, Studio Webware for project management and accounting.  I have been using Pages to put together client presentations, IDESIGN packages, and do blog posts- its easy and great for visual projects.  I use Evernote all the time to tag articles and sources and then search them later.  Pinterest is great for inspiration – if I am looking for something specific, say purple kitchen cabinets- its where I look.  Or if I am having designer's block and need a little push.  I always have a good supply of Paper Mate black felt tip pens.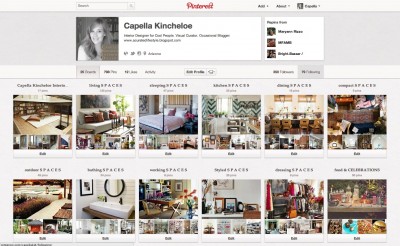 I know you work with people with all sorts of budgets and like a mix of high and low.  Personally, I think no matter what your budget a person should always include at least one piece with it's own story.  For me, my go to source for unique furniture and finds is ebay - Craig's List hasn't really caught on in Germany yet.    What are three things would would recommend a person incorporate into their own design if they had limited funds to really make it interesting and unique?
This room has all three:
Large scale art like a blown up photo or DIY abstract art makes a big impact without a large price tag.
Stencil wallpaper – a large pattern in any color will make your room pop.
Animal print – don't go too cartoony or it'll look cheap.  Use it in small doses and it'll add interest.
Fill in the blanks…
A velvet couch with…  A good book and a glass of wine.
Hand blown glass lamps… On a sofa table behind the sofa, the light can shine through and having the lamps closer to eye level will allow you to appreciate the craftsmanship.
Your go-to color of the moment is… Orange in every shade and tone. Coral, tangerine, rust, peach, apricot, cantalope, copper, pumpkin, amber.
A room is never complete until…there is art.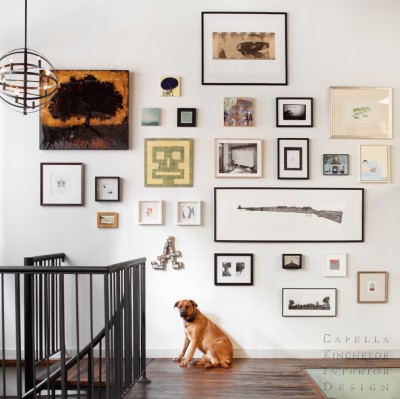 Everybody has their own design voice. If I were to walk into aroom you designed what would jump out at me and scream Capella? In other words, do you have a favorite design "trick" that you rely on?
Beyond my typical design traits – natural, global, luxury, which I hope would quietly reflect my design voice,  I would want nothing would scream "Capella" since I design for my clients, but I do like to leave something just a little "off" in a room.  Something that doesn't feel perfect –that makes the room interesting.  For example, this traditional gold mirror above a citrine console.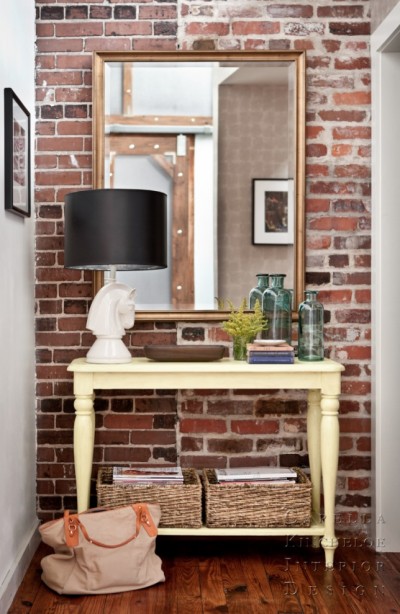 If you were looking to hire an assistant what are the three most important skills and/or traits you'd need to see?
Problem-solving
Resourcefulness
Hustle
If you were a room, which one would you be and what would you look like?
That is an impossible question to answer!  It would be different everyday, but of course have all my typical design features.
Thank you so much, Capella!  If you, dear readers, are interested in learning more about Capella make sure to check out her blog, etsy store and website.
Related Posts :