My son, like most 15 year olds spends hours browsing videos on youtube. He happened to leave the page open so it was there when I sat down to my computer. One thing led to another and a few hours later I woke from my daze with a new understanding of how one thing can lead to another. One video stood out from the endless footage of cute puppy tricks and sub-standard how to's and that was a clip on how to make a concrete chair for your garden from scratch. I gotta say, I was truly impressed. Not only does the chair look great, it's reminiscent of the zigzag chair by Gerrit Rietveld, but its kind of indestructible. It also has a sculptural aspect that I think is really cool.
The video was made by the operator's of a website called BuildEasy.com. I know, its a pretty cheesy name but they've actually got tons of detailed DIY projects. Here's the link to the accompanying instructions for the concrete chair. And if you like that, here are some more concrete chairs for inspiration.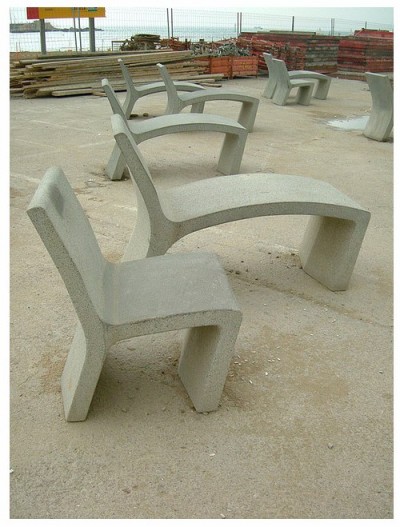 This one, by Dutch design team Tejo Remy & René Veenhuizen, looks like its inflatable but is actually made out of concrete, too.
These Concrete Things by Nola Industrier sit in Copenhagen. They actually look like they might be comfortable, but you'd need a big garden to accommodate their scale.
This concrete chair by Paulsberg is called "Spurt". It's made of one piece out of carbon-textile reinforced concrete and inspired by the silhouette of a sprinter on the starting blocks. It weighs a mere Kg 30 so you can use it inside or out. But I think my absolute favorite are these stools made out of concrete cloth. You just form it in the shape you want then, add water. It from a company called Concrete Canvas based in the U.K. I'm not sure if they sell their stuff in smaller quantities (they make it to form concrete shelters) but if they do, I might be willing to give that a go. This stool is part of a series by artist Florian Schmid.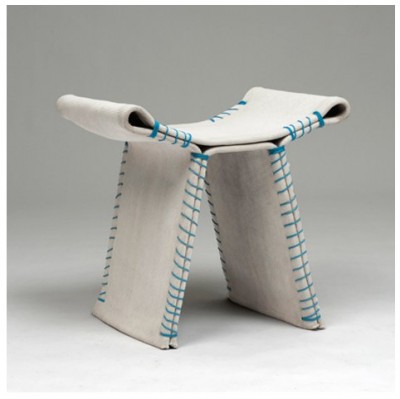 Related Posts :