I know I haven't posted in ages… It seems I have so many projects and things to do that all of my best intentions get waylaid.  I do take tons of pictures and am absolutely planning to post about some of my latest accomplishments.  The biggest one right now is my son's room.  I designed and painted a full size wall mural in his room and while I'd like to wait until his entire room is finished to post it… well, frankly that might take a few more months. The main colors in our house are creams, browns, purples, teals and celedons which were pulled out of the tiles in our fireplace.  But for his room we both wanted something more vibrant.  He's only 15 and you gotta kick it while you can.  Here's the little monster.  (I can say that in the absolute security that he will never find out.  He wouldn't read my blog if I paid him).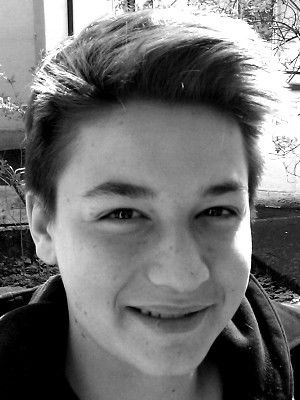 I'm so glad my kid isn't drawn to boring monochrome and that  he's willing to take a couple risks with me.  Course, now that I think about it, I was the one taking all the risks.  If it didn't look good, then I'd have to repaint everything. I was inspired by two things.  The first was a wall mural in a room by Molly Loot who is one of my fave designers.  The second thing was a pillow that we saw on our equivalent of Gilt, Fab.de.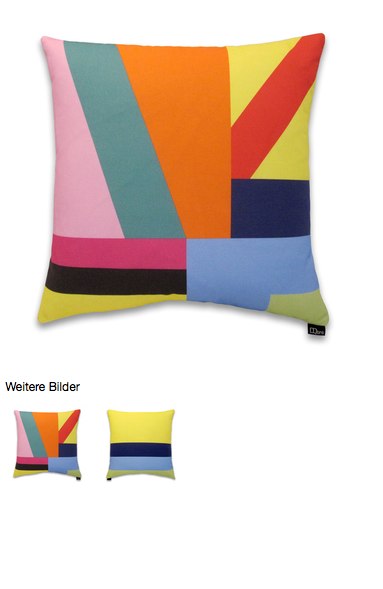 I loved the crazy colors and bold geometric forms and the back of the pillow gave me a couple ideas on how to paint the opposite wall in his room.  Since I knew it was going to be a lot of work, I sketched out a plan to scale.  For this task several tools were absolutely indispensable, an architect's scale ruler, an extra large carpenter's square with guides for other angles , masking tape, pencil and large eraser (you don't think I got that right on the first try do you?).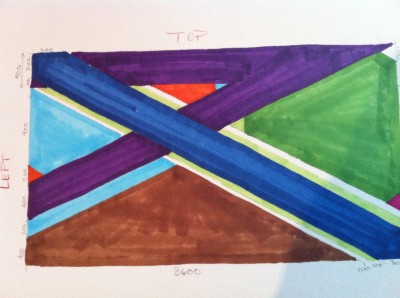 Then I went about the chore of figuring out how to blow it up from the scale drawing.  I'm not really a math wiz and the angles were tricky but, I got it just about perfectly. I then masked off one area at a time and filled it in.  I had to wait for the paint to dry enough between sections otherwise I would have had a white strip the width of the masking tape between all the colors which could have been interesting, but I wanted to stick with the plan.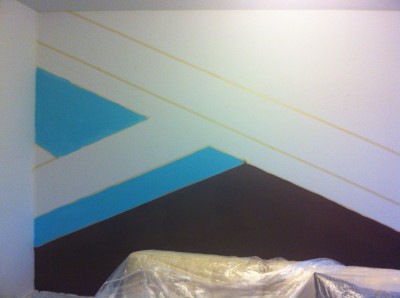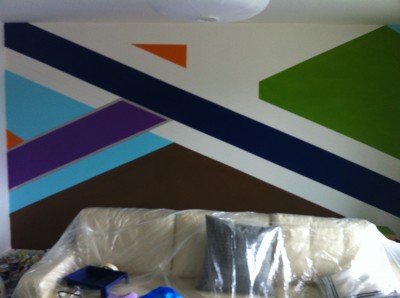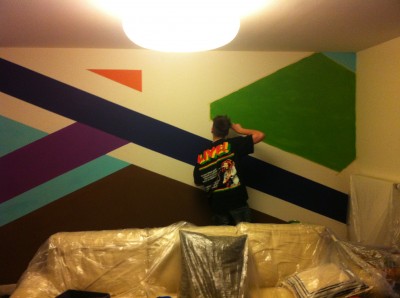 There's Marc "helping".  Isn't that cute?  Don't be fooled.  That green triangle was the only part he painted, or should I say repainted because as you can see, I had already painted it once.  The kid spritzed the walls and painted the foot stool when I wasn't looking so we couldn't do anymore that night.  The next morning I finished up and here it is (the right side).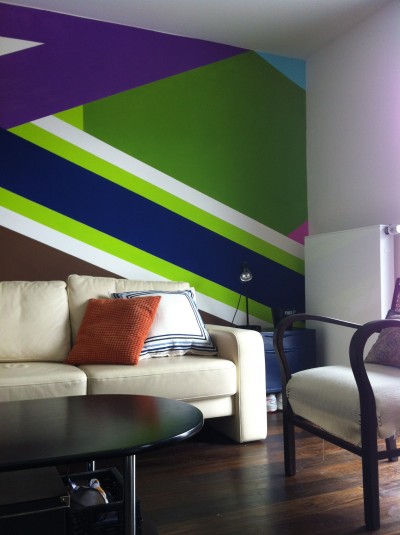 And now the left…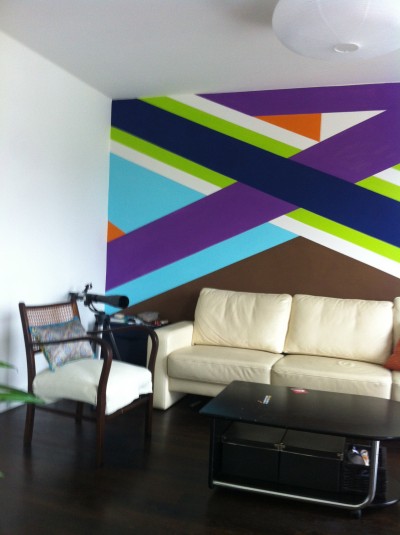 And the whole thing.
The room isn't finished – I still have to redo the furniture and accessories but as I said, I'm going to try and post things as they happen rather than waiting for them to be perfect.  Who knows?   Maybe you'll like taking the journey with me.  Let me know what you think

Related Posts :