The Best Online Discount Sites for Home Decor
Sorry for not posting in so long.  I've been über busy with projects in the house which I'll be posting on soon.  To make up for it, I've got a reference guide to all my favorite interior design websites that offer discounts; sometimes up to 80%.  It used to be that to get a good bargain, you really had to work for it.  But now there are so many websites online that are taking all the searching out of treasure hunting that finding bargains online is down right easy.  Living in Europe, I can't always take advantage of some of my favorite online sale sites but lucky for me several have been sprouting up on my side of the pond as well.   Most of the websites also offer deals on clothes, accessories and sometimes even travel but since my heart and soul belong to interior design, I'm going to focus on that.  Below in no particular order, are my favorites.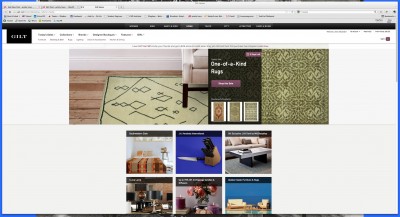 Gilt is probably the first of the websites to run short sales on high end luxury items.  Here you can often find things from designers that you would normally not have access to like Candice Olsen and Shine by SHO.  These are both examples of designers who sell to the trade only and as you might imagine, their stuff is not cheap.  I probably buy something from them at least once a month but I almost never take advantage of the international shipping that they offer.  I use them more to buy gifts for friends and family or, if I absolutely LOVE something, I'll buy it and send it to our house in Florida.  But that could mean literally months go by before I get to see it.   Gilt offers deals on home furnishings and decor, clothes, jewelry, wine and food and travel.  Gilt also has a great blog where they offer advice and tips for interior design and they have a free app that you can download in iTunes for your iPad or iPhone so you can be notified the second a sale starts.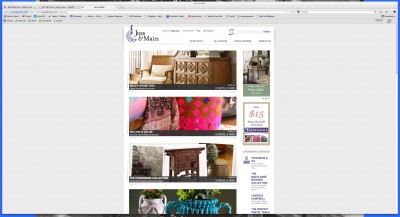 Jossandmain.com was recently recommended to me by a girlfriend who also lives in Germany.  They mostly concentrate on interior design stuff like home furnishings, rugs, lamps and accessories but once in a while will also offer sales on handbags and the like.  They also have a blog with guest posters from the world of interior design.  They call these posters curators and as you can imagine from the name, they take about specifically curated items.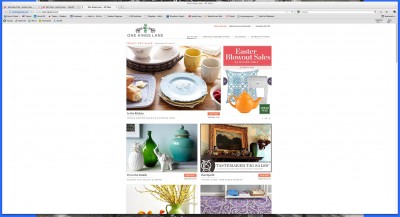 This would probably be my favorite online store except they don't ship to Europe.  Still, I can spend hours browsing through all their beautiful and unique stuff.  My favorite section of One King's Lane is called Live. Love. Home.  There they offer stories, videos, advice and details about specially curated items.  The other thing I find absolutely spectacular about this site is the section on vintage home furnishings and accessories.  As always, they also offer short, limited day deep discounts of beautiful things for your house.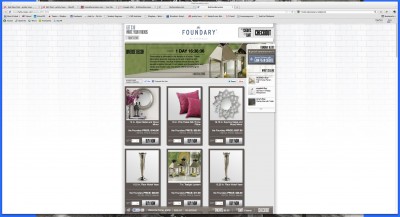 The foundary.com offers short 3 day sales on specific items for your house, closet and garden.  In fact, they bill themselves as the source for daily indulgence in coveted home essentials at up to 70% off.  They also have a feed so you can see what members are putting in their carts and favoriting.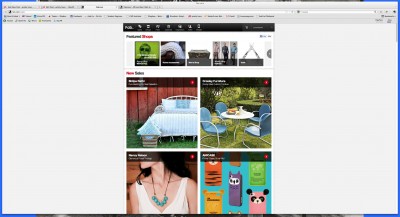 I have a special soft spot in my heart for Fab because they're one of the first to jump the pond and offer us folk in Europa land a chance to take advantage of their sales (at fab.de).  Unlike Gilt or One King's Lane, Fab offers discounts on new artsy stuff by up and coming designers.  This means you find pens, posters, pillows on sale right along side higher end items like chairs and sofas.  I've ordered quite a few things from their German site and with the exception of one side table, have been thrilled with my purchases. Both sites offer discounts on all items for the home along with clothes, food, jewelry, toys and what else strikes their fancy.  They have a feed where you can instantly see what other Fab members are buying and liking which is also fun.  App available in iTunes.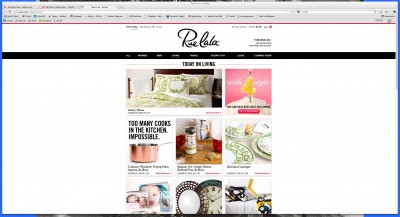 Like Gilt, Rue la la offers deep discounts on luxury items ranging from house and home to clothes for men, women and children and travel.  On top of offering up to 80% off these items, they also let you pay a one time fee of $9.95 for shipping and handling for 30 days.  I can tell you from experience that S&H can really add up, especially on heavier items like furniture so that's a good deal!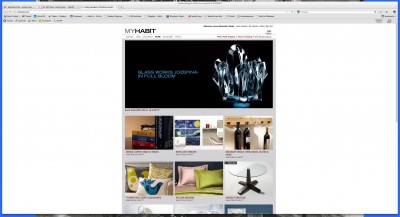 This is a fashion and lifestyle website offering discounts of up to 60% off retail price.  They're owned by amazon.com, so as you can imagine, they don't lack for merchandise.  They have a mobile app which you can download from iTunes which is a good thing, because their stuff tends to sell out very quickly.  They offer free shipping in the States and will also ship internationally for flat rates between $15 and $25 (depending on your country).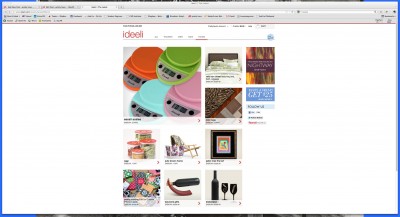 If you have a favorite site that I haven't mentioned don't keep it to yourself.  Share the wealth!
Related Posts :