I'm all for making a grand entrance.  Our foyer is going to purr "Hello Darling, here's a little taste of what you're going to find in the rest of the house."  I'll introduce the color scheme through a huge hand-painted panel that will hang on the wall – actually the panel will only show the accent colors and  I'm thinking of either using a chevron motif or cubes.  I'm leaning more toward the cubes even though I've got chevron in my sketch, but that's because zigzags are easier to draw than 3D cubes.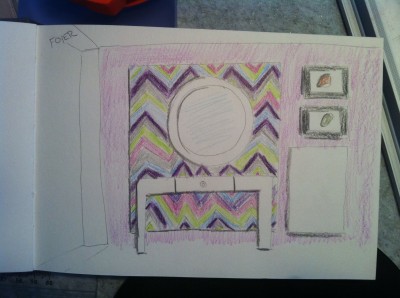 On top of that I'm going to hang a huge round mirror framed in white.  That will be a nice contrast to all the hard geometric lines of the design and pick up the shiny lacquered white of the Parson's console table underneath.  I absolutely insist on having a drawer to store all our keys and crap in when we walk in the house otherwise that table would go from looking sleek to sad in no time.  The white rectangle thingy to the right of the table is a radiator and I can't do a thing about it except incorporate it into the plan.  So that's where I get all the pops of white.
Above that, I'm going to hang a couple of shadowboxes that display a slice of stone each.  I've got a real thing for rocks.  The color of the frame will depend on the color of the wall.  If I go with what we have now, which is sort of a stone-white (like this) then I'll use black frames.

If I go with the Brassica then I'll use white frames.   The colors in my sketch are not exact – not by a long shot  – but it does give you a feel for what I'd like to do.    The real colors are from Farrow and Ball and are shown below along with other examples of some of the furniture and accessories I plan on using.
The little side table under the console is from West Elm and I think it's adorable.  If I use that, then I'll go for the stool in aluminum.  It all just depends on how much I can lug back to Munich from the States.  Course not letting my husband or son bring anything other than hand luggage helps.  He he he.
Related Posts :