I downloaded the House Beautiful 500+ Colors app ($4.99) for iPad back in May when it came out and meant to get around to posting this review immediately after but as you can see, I'm a little late.  In any case, if you're considering buying the app then you might like to know what someone else – namely moi – thinks of it.  So, here you go: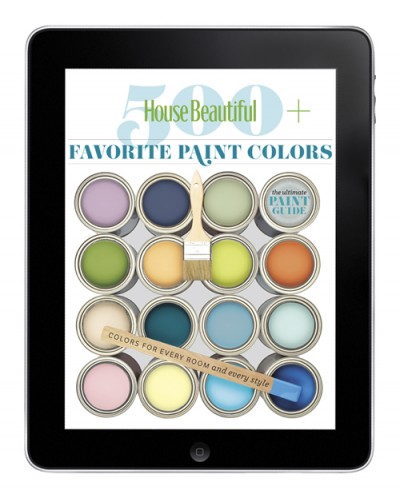 The app is (obviously) put out by shelter mag, House Beautiful and is designed to help you in picking the perfect paint colors for what ever design job you're tackling.  Over all it's a fun app that gives you a run down of  almost 700 paint colors from all the top paint companies like Benjamin Moore, Farrow & Ball, Glidden, Ralph Lauren Paint, and Sherwin-Williams, just to name a few.  They've got a medley of ways in which you can choose a paint color such as by room, mood or color family. I especially like the recommendations for choosing colors based on the quality of light.  For instance, if you have a north east facing room – they've got recommendations that will keep the room from looking too cold.  You can also combine your searches.  Say, for example you have a west facing bedroom and your color preference is blue, you tap all your choices and up comes a list of suitable colors which really narrows things down.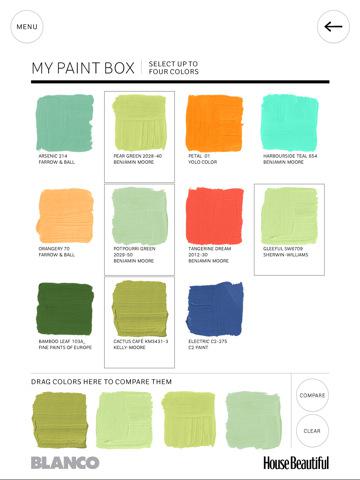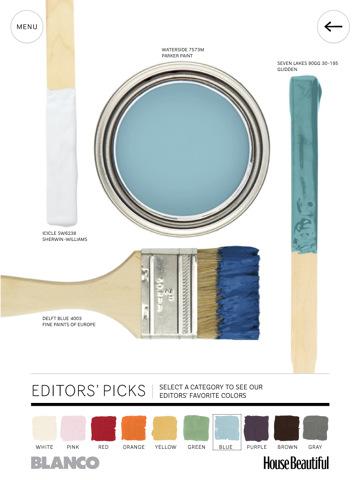 You can then save your favorites to "My Paint Box" where you can compare up to four colors side by side.  Or if you prefer, you can check out a digital paint swatch of your favorite with a couple a well placed taps.  That will expand your virtual paint swatch to the entire size of the screen so you can hold it up and and see how it looks in the room.  Now, the obvious draw back to this is that it's digital so colors are not going to be exact – but it will give you a good idea.  And it certainly helps in narrowing down which paint samples you'll want to pick up at the paint stores.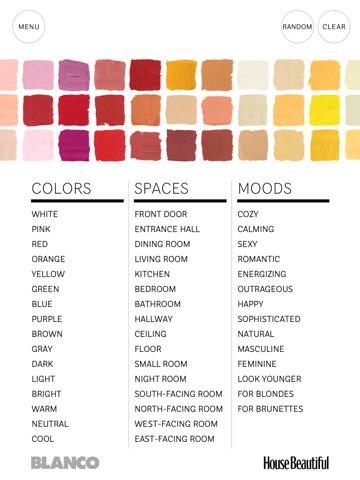 For those of you who just like ogling glorious color after glorious color, the app has something called the Color River.  When you tap that, a current carrying all the apps colors will slowly flow over the screen.  Another useful tool is the Editor's Picks which shows you which colors are House Beautiful's current favorites.  And for those of you who want to share your color choices with the world, it also let's you connect with all the major social media sites like twitter and facebook.  I can see how this would come in handy in a variety of ways.
Now for the drawbacks.  It's only available for the iPad not the iPhone or iPod – which I think is a major drag.  I don't always want to stuff the iPad into my purse and lug it around and would love to have a version for my iPhone.  Are you listening House Beautiful??  Also, while they do show some examples of the color in action, I think it would be fun it they integrated a LOT more examples.  Go ahead and curate the uploads but show them – sort of like what Houzz does.
Would I recommend buying the app?  Hmmm, well yes with an asterisks.  Frankly, at almost 5 bucks a pop, I think the price is a little steep.  I don't regret spending the money, but I think I would have felt it was a better deal at around 2-3 dollars a download.
Related Posts :