I almost titled this post "faux malachite" because that's mostly what you see out there today and mostly what I'll be writing about.  What stopped me is a memory of my trip to St. Petersburg, Russia.  There we visited the L'Hermitage museum which had relics (I use this term very loosely as it was jam packed with treasure) of pre-revolution glory days.
For example, this malachite vase.  What you're not getting here is the perspective… this thing was massive.  It probably stood over six feet tall and when you consider that the price of malachite hovers around $1000 right now (having more than tripled in the past 10 years) you start to get an idea of what this vase might be worth.
This malachite fireplace mantel was also humongous.  Actually, with this shot you can see the perspective a little better as I can just barely see over the top of the mantel, so it probably came up to my  chin.  In any case, lucky Russians.
Malachite's deep emerald color, swirls and whorls have been seducing designers throughout the ages.  Tony Duquette fell for it's allure.
It even inspired him to design a magnificent malachite rug.
Kelly Wearstler isn't immune to malachite either…
Lucky for us that apparently, malachite isn't so hard to fake since at the moment I can't even afford this black lacquer box (hey, it was over a $200).  Danika Herrick from Gorgeous Shiny Things has a great "how to," and not just for malachite.  She's an amazingly talented decorative painter and designer who has all sorts of tutorials.
In fact, Bri Morris, who I recently featured here, used Danika's tutorial to make this amazing faux malachite console table.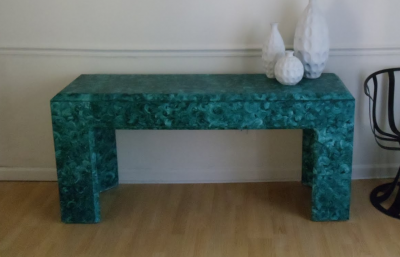 And these chair below are also fancy fakes.
And I love these faux malachite tabletops that I saw on InteriorNeeds.com. Actually at $218 a piece, the price isn't bad either.  But I bet with an Ikea stool, Danika's instructions and some chrome paint you could easily hack these…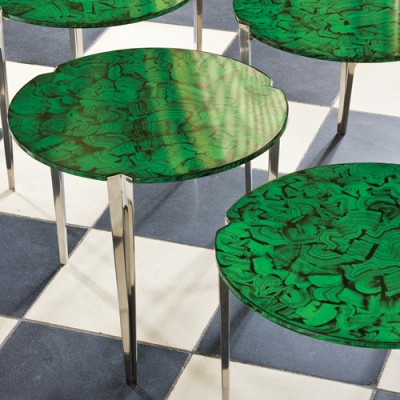 Related Posts :