I swore our old "bachelor pad" leather couch was not following us to our new house, even if I had to make a couch to replace it.  Well, as it turns out I do have to make the couch and not just one, but two.  I decided I'd use twin mattresses as the seat cushions, which, luckily, dictated the dimensions and will also serve as really comfy guest beds.  Figuring a slipper sofa, (armless) would be the easiest, I set about what will probably be the most fun part of my task, buying the fabric.
Somehow I lucked onto Modern Fabrics, run by husband and wife team Ewa and James Powell, who rescue commercial grade fabric remnants from furniture factories and then turn around and sell them to the public at phenomenal prices.  These are fabrics, that unless you're an interior designer or architect, you wouldn't normally have a hope of buying because they are only sold "to the trade" direct from showrooms.   But because they've been rescued by Ewa and James, even people outside the design business have access to these gorgeous fabrics at any where up to 70% off what they would usually cost.
Their selection is amazing.  I had such a hard time choosing, but in the end wound up with some absolutely fab fabrics for my projects.  Look for the finished couches (and a couple other things) in upcoming posts.  In the meantime, I was curious about how Ewa and James came to run their business and thought I'd ask a few questions which Ewa graciously answered.
The Interview
So, you and you're husband run a business together – that's got to have its own set of challenges! What are your backgrounds and what led the two of you to open Modern Fabrics?
James has a masters in Architecture but after graduating he pursued his real passion which is furniture building and design. While building and upholstering showroom and prototype pieces for furniture companies in North Carolina, he saw thousands of yards of designer fabrics being casually tossed in the dumpster. Frustrated with the waste James started bringing home bags and bolts of fabric. As our very small home started to burst at the seams with beautiful textiles I had to run intervention.

I am a graphic designer and at that time I was a co-owner of a design studio, Winkbox.com, and together with my business partner John Boatwright, we build the Modern-Fabrics.com website for James. Many months latter we sold our first yard online.

As our inventory grew and we found an audience online we decided to open a brick and mortar store in Charlotte N.C. The store holds 5 times as much fabric and leather as our online store so I always encourage fabric junkies to visit us in Charlotte.
I know recycling and being green is a huge part of your mission. What can people at home do to reduce their own impact and still keep their surrounding beautiful?
Reuse your furniture, or buy used furniture. Grandma's old puke-green couch most likely is built better and stronger then anything you can buy now. Reupholster it with reclaimed fabrics from Modern Fabrics

or fabrics made from post-industrial and post-consumer recycled fibers. You will have one of a kind custom piece of furniture that you can pass down to your children who will surely have something to say about your fabric choice.
Do not throw away your old fabric or draperies! Repurpose all fabrics for other use, or donate them to the growing number of recycling facilities. Call you local municipality for programs in your region.

Purchase good quality furniture made with sustainable materials and finishes. Make a more ecologically sound choice of wood from a supplier who can verify through a chain of custody that the original trees came from an ecologically sustainable forest managed under guidelines of the Forest Stewardship Council.
I have to ask, how did you ever find out that such quantities of fabric were just getting pitched?
By working in the furniture industry for many years, James has seen firsthand, at numerous furniture factories and cutting and sewing workrooms, the grim reality of waste and disposal of textile fabrics. An overwhelming majority of textile waste winds up in black plastic yard bags in a landfill. Countless discarded and unused bolts of fabric fill our landfills everyday.
Customers Own Material (COM) fabric is the worst culprit. Upon filling an order, there is no incentive to store or reuse fabrics which have been paid for by a customer. It is not cost effective for manufacturers to return or ship the fabric to the customer. Furthermore, most customers simply have no interest in having excess COM returned. As you can see in our online store, quantities of excess COM can range from 1/2 to 40 yards or more! This is where we come in.
Modern Fabrics is committed to building a larger market for these discarded fabrics while ensuring an ecological textile life-cycle. We want to encourage designers to utilize existing sources of textiles before resorting to consuming more raw materials. There is quite simply a glut of fabric out there that begs the attention of our creative professionals. Much of this fabric is of the highest grade, with contemporary designs from sought after and respected manufacturers. The internet is the perfect medium to bring this source to a wider market and simplify the recovery process.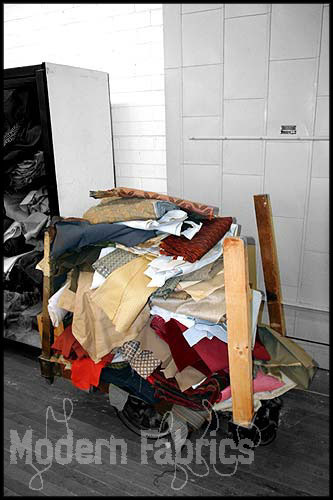 Do you have any specific criteria when you choose a fabric to include in your inventory? Is there anything you wouldn't consider? How important is brand name?
Our criteria is pretty simple: We must like the fabric and we must be able to identify it. We buy our fabric only from the highest end manufacturers so we know that the quality is always there. We only deal with high-end brand names as this is what our customers expect and recognize. We hand select EVERY piece of fabric that finds it's way to the store. We never buy closeouts or seconds.
What would you say is the easiest fabric for a DIY upholsterer to work with? Why?
That changes from week to week as I update our website with the most amazing fabrics and designs. This week it's probably Maharam Oda by Kvadrat. We have some scraps in black and white
http://www.modern-fabrics.com/store/product-info.php?pid395.html
(an amazing deal) and a few yards in brown and white. I love this fabric because it looks like a photocopy, it's very graphic and unusual, and also hard to come by. It is light weight enough to be used on a home sewing machine.   And, though it's upholstery grade, it would work great for any project like a pillow or a purse.
I asked Ewa,  for a few more tips on choosing upholstery fabrics especially if you are new to sewing and upholstering.
This really depends on your equipment and your skills. For beginners with a standard sewing machine I would suggest starting with cottons and linens. Felts and ultra-suedes are awesome because they do not fray, but most of the choices we carry are commercial grade and should be tested on your sewing machine first. There are many other lighter thickness fabrics that can be used but ALWAYS order a free swatch sample to check the color, texture, thickness, and if your equipment can handle the material.
We also carry some fabrics that have a backing on them such as fire backing, we list this in our description, these fabrics will be stronger but might be more difficult to work with for beginners. Once you get serious you can invest in stronger, industrial grade needles for your machine and then upgrade to a stronger sewing machine.  I don't sew myself, so my knowledge comes from my customers who share their experiences.
If you are not sewing but doing some easy upholstery using your staple gun, vinyl is a great choice. It comes in many amazing colors and textures, it will last forever and it's easy to clean.
Combining fabrics can be really tricky for a lot of people, that's why so many rely on "collections" which can get kind of boring and predictable. I know with so many bold and modern fabrics in your store, you've got a secret for making them work well together. What's your recipe for combining fabrics?
While working at the store I have definitely developed more respect and appreciation for professional interior designers and decorators who are able to pull the most amazing fabric combinations together and make them sing.

If I had the time to decorate my own home I would use solids and soft patterns (I am not afraid of color) for the big pieces like sofas, and drapes. This is your biggest investment in terms of yardage so you want to make sure you can live with it for a long time. Then go crazy on the pillows, ottomans, benches etc. Those pieces are easier to replace/reupholster and they will add the flare to your room that will make it unique. I mostly go with my gut feelings and have fun, I would NEVER use a "collection" I want my space to be one of a kind even if things don't match.
What's the most unusual or your favorite project someone has done with one of your fabrics?
I really wish I got to see more projects that are done with our fabric, unfortunately our customers get too busy and forget to send us pictures of their finished projects. The same goes for you!  Send me pictures of all the great things you make with our fabric!

I love the bags Nana by Sally http://www.modern-fabrics.com/2011/01/one-of-a-kind-nana-by-sally/ makes from our fabrics. Most recently a customer showed me these baby booties she has been making out of our Maharam Wafer Jet vinyl, http://www.modern-fabrics.com/store/product-info.php?pid602.html
I think they are just adorable.
Is your home constantly changing and evolving? I know if I were you, I wouldn't be able to resist taking home some gorgeous new fabric to make pillows, drapes, re-upholster and old chair… and since you're always getting beautiful new fabrics in stock – how do you hold back?
James has a "secret stash" of fabrics that he saves for future projects. I am the complete opposite and I want to make all the fabric that we find available to our customers because I know they can put it to better use then we ever will, plus we get more cool stuff in every day. Right now we are so busy with running the business and raising our two children that you would never know we own a fabric store if you visited our house.
What's your most treasured home accessory?
Last spring we found this couch at the Habitat Store in Hendersonville, NC. We loved the shape and size so much that James had it rebuilt from scratch using the old couch as a form. It took me an agonizing 4 months to decide which fabric to put on it.  I finally I went with Knoll Circa Leaf.
It's bright green (AKA grandma's puke-green)! Now I absolutely love this couch, it's presence in our house inspires me (James did not need any inspiration) to decorate our whole house around it. I still have a long way to go but this old/new couch definitely breathed new life into our house.
If you were a textile, what would you be? How about your husband?
James would be anything by Paul Smith (sorry none available from Modern Fabrics as it's all in James's "secret stash").
I would be changing my mind all the time like a true woman, this week I would be Maharam Alpine by Sonnhild Kestler in Thistle, I just found this fabric and I fell in love, it reminds me of an Eastern European folk art. I will have this fabric available online next week.

Thank you Ewa & James!
Related Posts :