Abbe Fenimore of Studio ten 25 is an inspiring designer whose talent and warmth bubble over into everything she does.  In fact, my interview with her yielded such a wealth of great advice, funny anecdotes and stunning pictures that I had to divide it into two parts.  Make sure to catch part two of our interview tomorrow and if you just can't can't enough of Abbe until then, head on over to her website (contact details at end of interview).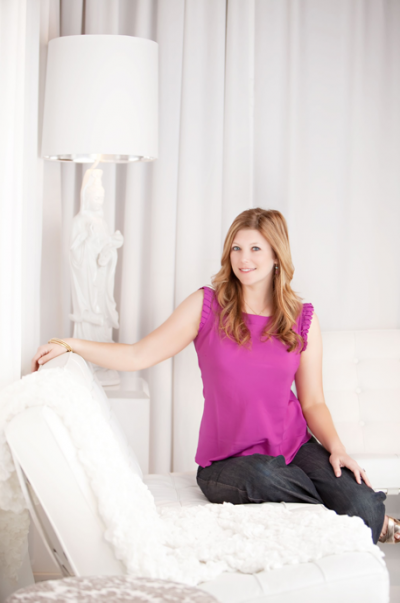 PH:  Besides a love of good design we have another thing in common. I lived in Rome for almost two years and really loved my time there, too. How do you feel like your experiences in Rome affected your design sensibilities?
Being in Rome was a magical experience for me. I spent almost 6 weeks there with my University ( Louisiana Tech) and was able to travel around Europe during that time too. Most of my classes focused on design and being in the heart of such great history was indescribable. We also had the opportunity to meet with the interior designer for the US Embassy in Rome. Seeing her describe her day to day tasks and actually working with her on local design projects was it for me. I knew that I was right where I need to be and becoming a designer was it for me.
PH:  You have both an interior design practice and a store where you sell home accessories. How do you juggle all that (and a husband and two dogs, too)? Which came first and how similar is your approach to running them?

Juggle is right. I'm fortunate to have a husband that cheers me on every step of the way. I go to him for advice and his honest, sometimes brutal opinion always keeps me focused on the goal and end result. The design business came first in 2007 . After one of my clients pushed me to give them access to an "online catalog" Shop Ten 25 was born. The design business and the shop go hand & hand, clients can get access to the shop at a discount and the Shop clients have access to my local or online design services. It's my three-legged table, they all work together to create the complete design experience and the table wouldn't work without all three.

As for the dogs, having the girls around the Studio make the days entertaining. I watch them chase squirrels, bark at birds and then they come take a nap by my desk. The nose bump is their sign that it's time to hit the dog park or at least play a little fetch. They keep me moving and remind me to step away and not lose sight of how important "family" time is.
PH:  If I were a fly on the wall in the room when you sit down to develop a design concept what would I see? How does your typical design process run its course?
I always start the design process with the inspirational images my client provides me with. I then pull notes from our conversations and begin to develop a direction. The floor plan is my next priority and an important part to developing scale and flow in the room. I may develop a few options and crate an elevation to make sure what I imagine will work in the room. From there, I begin to pull fabrics, paint swatches, furniture ideas and look at the prices points. Keeping the budget in check is the biggest challenge. Most clients give me the budget and are not really sure how to use it. Showing the pieces that work in their space with a few price point options is a good way to help them decide what's really important.
Here is an example of a finish board that I created for a client's home office. Since he was traveling quite a bit, sending the images over email worked out well. He could get a feel for the pieces I though would work in the room and see them on a floor plan. Of course there were many decision to be made as we moved through the process but the room ended up perfect.
PH:  Is there anything that just drives you crazy when it comes to interior design?
Ok, hopefully I'm not offending anyone here…but rooms that are "matchy matchy" drive me crazy. My bachelor clients are the most challenging when it comes to this. They just want a "room in a box" that's ready to go because they don't want to wait. I have to back them off of the ledge and show them that grabbing pieces from multiple sources can be a good thing and create the vibe they are ultimately after. Here is a downtown loft I designed for a bachelor, he gave me a direction for the color palette and style he wanted then asked me to just make it happen.

Abbe Fenimore
Studio Ten.25
Design.Interiors.Consulting
C: 214.763.3040
www.studioten25.com
Look for part two of this article in tomorrow's post where Abbe gives tips to designers just starting out, ideas on creating a timeless room and her favorite design tricks.

Related Posts :