Furniture World Styles from Classical to Contemporary by Judith Miller
I always like to share books that have helped me in my studies, and if you're going to buy just one reference book on furniture styles and history, then Judith Miller's book Furniture World Styles from Classical to Contemporary is an absolute must f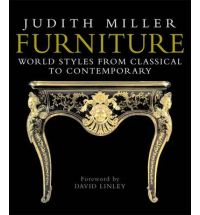 or people who consider themselves design enthusiasts. It's and invaluable resource for design students (this is my "go-to" book) and professional interior designers.  And if you collect antiques, consider this your bible.  First of all – I kid you not – this book weight 3.1 kilos. That's about 10 lbs. and its absolutely packed with gorgeous full color illustrations – more than 3,000 to be precise. It covers the history of decorative features and motifs and their significance and includes profiles of important designers.
The book is arranged chronologically into chapters starting with classical design and ending with post modernism and contemporary design. Each chapter shows you how to recognize the key elements of style for that period and also examines the materials, fashions, techniques and designers that influenced furniture style and design.
Within each chapter you'll find that important pieces of furniture are examined in detail. From the humble stool to thrones, from commodes to the bureau, and everything in between in every conceivable form. Miller gives you a rundown based on country of origin as well as her expert analysis of key pieces, many with price guidelines.
My favorite part (included in every chapter) is Elements of Style which give you a breakdown on key elements of what made that particular style what it is. You'll learn how to recognize the differences between Baroque and Rococo and learn to decipher modern Swedish from German design (just to name a very few).
Miller also includes an extensive history of the times so that you understand from a historical viewpoint what was going on and how it influenced design (which helped a lot for my history of interior design tests).
As an interior design student, I find myself referring to this book again and again.  But I have to admit, I'm an ebay addict and it's come in pretty handy there, too!  Plus, it looks great on our coffee table.