If you're looking for lush, sexy color to help clear the winter doldrums away then Jamie Drake, the King of Color, is your design superhero.  My original plan in our home was to stay with neutral colors to try to create a soothing environment that mirrored the view of the lake outside.  But, the truth is I LOVE COLOR.  My heart starts to pound when I see a room filled with rich, saturated hues.  If there's a pink couch and a cream couch placed side by side, I'm inevitably drawn to the pink one.  So, I figure why fight it.  I can have both right?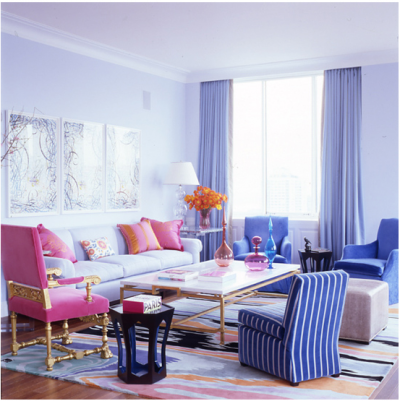 After all, I think the above palette by Jamie is somehow both dreamy and vibrant.  And If you take it apart, you see his color scheme is pretty soft and only has pops of bright color.  I also just adore how he includes really funky art on the walls and on the floor (as in that to-die-for rug above).
If the above room doesn't make you want to kick off your shoes and run through the daisies, I don't know what will.  And I love those chairs… I'll have to do a little research on those.  Below are more rooms by übermeister interior designer Jamie Drake.  He actually has quite a profuse color palette in his armory, but I focused on the pink ones because, well, I already explained above that between pink and cream, pink wins!  Let the vibrant color warm your heart and take the chill out of your bones.
The problem with this designer is that he's got too many beautiful rooms to choose from.  This is a man who is definitely not afraid of the color pink and knows how to use it!  I might also add, that all of these rooms were designed well before Pantone announced that it's color of the year for 2011 was Honeysuckle.
Luscious, gorgeous, scrumptious… lovely.
P.S.  Check out this post if you're looking for more ideas on how to decorate with pink.
Related Posts :