I'm feeling the heat of our bathroom remodel. Well, to be more specific, two and a half bathroom remodels.   And for me, it all revolves around the tile.  I think tile, or at least the kind I want, are like the jewelry of the room.  My problem is jiving what I want, with what's available here in Germany.  Don't get me wrong, they have a plethora of really beautiful, quality tiles here but they all have this certain "look." It's, I don't know, minimal. Though I did sort of love a ceramic floor tile that looks a lot like onyx (similar to the one one below).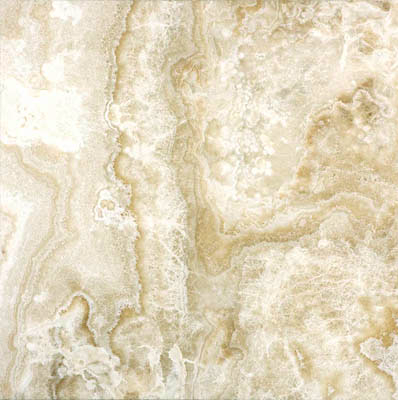 I wanted to line our shower (which is part of the attic conversion and has a slanted ceiling), cover the bathtub and the wall with the sinks, with long, thin glass tiles. One, because I think that glass mosaic tiles are really beautiful and two because glass has a certain depth that would add dimension to our small bathroom and three, because the long thin tiles run vertically will add height to our very average ceilings.  You can buy glass mosaic tiles at almost any hardware store in the States and it's as scarce as a truck driver at a design convention, here.
Okay, okay.  So, now I've had my whine.  Tomorrow I'm going to an interiors convention to see if I can find some tiles I like that aren't out on the market yet.  Otherwise,  I can import the tiles I want from the States but that could be pricey ( putting it very mildly), or I can try and get my mind to click out of its "one way" mode and start trying to see other options.
At the convention I'll have my eyes open and if that doesn't work, I guess I just have to open my mind as well.
Related Posts :