Getting an Interior Design Degree Online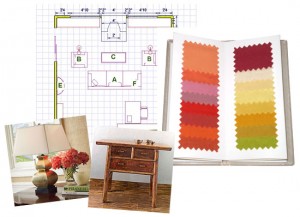 I've always been interested in interior design and for one reason or another, am just now getting around to getting my degree and I'm doing it online.  Why?  Because I can work at my own schedule when I have time.  Being a mother, wife and also working, would make it nearly impossible to go to a brick and mortar school.  I know, I looked into it.  Also, I live in Germany but I'm an American.  So for me, being able to submit my tests in English is a definite plus.
I researched several online schools and decided that if I was going to do it, I would do it right.  Meaning, that I would only study at a school that is accredited with the major design associations such as ASID (American Society of Interior Designers) and IIDA (International Interior Design Association) which narrowed my choices considerably to five.  Yes, only five.  Of course, the good new is, you only need one.  First, I'll list the accredited online interior design schools then, I'll tell you which one I chose and why.
Ok, drum roll please… I chose Rhodec International for several reason, all important.
There are no "due date" for your assignments.  You attempt them as you see fit and turn them in when you are finished.  Right now Rhodec is using a correspondence system where put together your test as if you were going to hand it in at a brick and mortar school.  Meaning, you print out your essays and include any drawings or mood boards, etc. with your test papers and send it in.    I usually receive my grade quickly (no more than a week or two and sometimes as soon as one day) but that really depends on your tutor.
Price.  Rhodec is relatively inexpensive (see below), especially when you're comparing it to other online schools.  You'll pay anywhere from 145 to 395 British Pounds per unit and there are ten units in the Diploma course.
You can extend your student membership if you need more time to complete the Diploma Course.  Ideally, you should be completing one test (which involves answering several questions and always includes visual substantiation of your conclusions) every two weeks.
If you pass the Diploma course with high marks you are eligible to study online at the Staffordshire University for one addition year (at an additional cost) and in the end you will have a Bachelor's in Interior Design.  Another plus, is that your degree doesn't state that you achieved it online.  This is also an online course.  Personally, I like the idea of getting an actual Bachelor's degree but either way you would be fully qualified to sit for the national certification exam administered by the National Council of Interior Design Qualification (NCIDQ).
Ok, now for the drawbacks:
There are no due dates.  You have to be extremely self disciplined to stay on schedule.
There is no real interaction between students.  They do have a bulletin board (http://bboard.rhodec.edu/cgi-bin/discus.cgi) where you can virtually interact but for obvious reasons, that can be limiting.  What you don't have is the creative spark being passed from one student to the other.  You also really have no way of knowing 100% what's expected of you in terms of having a visual reference from past students works.  This can be challenging sometimes.  Personally, I find being able to see other people's efforts not only interesting but inspiring.  Also, you can kind of judge for yourself where you stand.  Of course, you will get marked for your submitted tests by your tutor, so you can assess your progress from that.  You just can't assess your progress in terms of other students.
There is limited tutor feedback.  There have been several times when I wished I could actually sit down and talk to one of my tutors to clear up confusion.  They do (for the most part) answer emails but it's really not the same.
In spite of these drawbacks, I'm very pleased with Rhodec International and the education that I'm receiving from them.  However, studying online does have it's limits and you will have to supplement them yourself.  These means no lectures so you'll have to do your own research.  I'm also taking extra classes in perspective drawing, water color, and AUTOCAD (the school is affiliated with http://www.cadtrainingonline.com) at my local continuing education centers.
I've always been an independent person and big believer that you can learn what ever you want if you just find the right books.  That said, there are several books that really have been (and continue to be) a big help to me with my studies.
For learning how to render you really only need one book.  Christina M. Scalise's book, Interior Design Illustrated.  I've written an in-depth review which you can read if you follow the link.  Look for upcoming reviews on the below books as well.  They will all save you lot's of wasted time and money looking for books you don't need.  These are the best of the best for interior design students.
I hope this has helped you.  If you have any questions, I would be happy to answer them, just drop me a line.
UPDATE
Hey folks, since writing this article there have been a few changes and additions that need to be made.
Rhodec is no longer affiliated with the London Metropolitan University but with Staffordshire University through the National Design Academy in Nottingham, UK.  The NDA is estimating that it will take you between 12 and 18 months to complete your degree.  Here's a breakdown of the additional BA Interior Design FEES.
The course is no longer a meandering, go at your own pace, send in your assignments via snail mail, but a structured curriculum with due dates and all tests to be submitted electronically. Here is the new RHODEC DIPLOMA (Schedule).  Frankly, this has its pros and cons.  The good thing is, you'll be able to save on postage and you retain your originals so there is no wear and tear by sending assignments through the mail.  The (major) drawback is that so much of interior design is tactile and with assignments sent via email, tutors won't be able to fully assess how color and texture of various materials work together.  In other words, get a good scanner kids.
Here's the Catalogue of course for the USA.  This is a downloadable PDF:  US_Catalogue_for_Rhodec
And Here is the UK Catalogue – I believe they're the same but download the PDF that applies to your region:  UK_Prospectus
Lastly, here is a list of the new prices: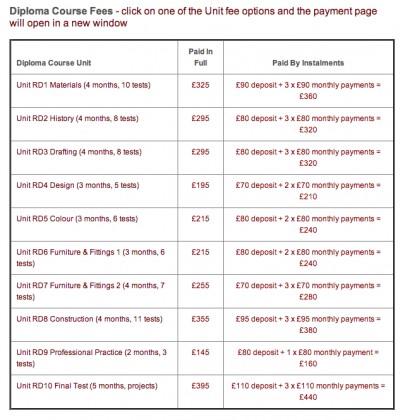 Well, those are the major changes.  I've also recently started an online study group with another Rhodec student and we would welcome any and all students of an online interior design school (no matter which one as long as it's a BA course – It doesn't matter where you are with your studies either).  I've also recently completed an intensive 4 day course in Revit which I talk about in this post.  As always, keep the questions coming.  Best, Anne
Related Posts :